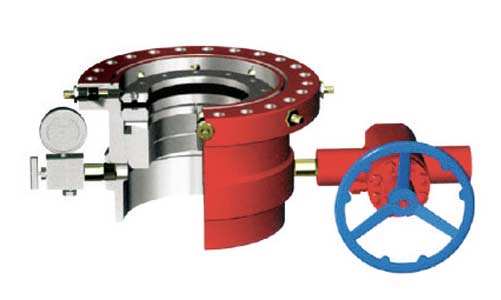 Features:
1. Connections types:PI NPT box ,API CSG box,sow type,slip-type
2. High-bearing capacity and anti-H2S
3. Outlets:threaded and studded
4. Design as clients`s requirements
The casing head ,a component conneting the casing to the wellhead assembly of various types and sizes,it is used to support the both the intermediate (protective) string and the production string and to seal up the annular space between the casings,thus providing a crossover connection for the installation of the bop ,the tubing head,the Christmas tree and other top wellhead components. It is also used to inject additional cement slurry or balance fluid,monitor the well sink,and execute other operatins through both of the two bypass holes in the casing head body. Available for choice according to different requirements of casing procedure and wellhead conditions.
Technical Parameters:
Casing Program

20"x13 3/8 " x9 5/8 " x7" or 5 1/2 "

Flanged Outlet

PFF35/80 :R35

Pff70/65 :BX153

Load Capacity

≤5000KN

Hanger Specification

4"

、

4 1/2 "

、

5"

、

5 1/2 "

、

7"

Working Pressure

35Mpa

~

70Mpa

Performance Requirement Grade

PR1

Product Specification Grade

PLS1-3

Temperature

P·U(-29

℃~

121

℃

)

Material Class

AA

~

FF